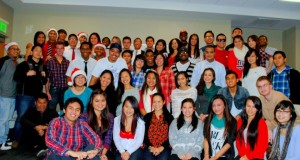 Children's Hope Fund would like to thank The Filipino Cultural Association at Towson University for their generous donation of school supplies for our students in need this year. We are very grateful for their help as these school supplies will enable the students at Bacoor Elementary School to start the school year with the supplies they need to succeed.
We have until May 25 to collect backpacks, school supplies, clothing, and of course monetary donations to help with our 2013 Back To School Backpack Drive.  Contact us at info@childrenshopefund.org if you would like to donate supplies. Below is a list of items that are needed:
Backpacks
Pencils
Notebooks
Erasers
Chalk
Arts & Crafts Kits
Textbooks (K-6, all subjects)
Teacher's Manuals (all subjects)
Dictionaries
Encyclopedias
Books (Fiction and Non-Fiction, K-6 levels)
Educational Videos or DVDs
Educational Games (Scrabble, etc.)
Flash Cards (all types)
You can also make a tax-deductible donation through Paypal by using the link on our homepage or by mailing a check. A $20 donation will cover school uniforms, supplies, and fees for one student for one year.