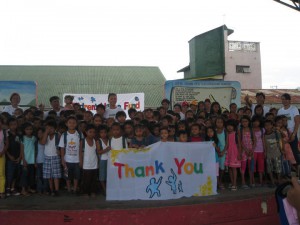 I visited the Philippines on June 5th just in time for the start of the 2010 school year. We we're able to help over 100 of the neediest children attend school this year who would otherwise not been able to. The children received a backpack, complete set of school supplies for the year such as pad paper, pencil, sharpener, eraser, notebooks, and a school uniform. They were also given snacks and food packs to take home. The children came from the town of Bacoor in Cavite. I was accompanied by Barangay Captain Nieves Dela Cruz and elementary teacher Rosalie Concepcion, along with our Children's Hope Fund volunteers. The goal this year is to send over 300 kids to school. We're still collecting backpacks, school supplies, clothing, and of course monetary donations to help meet our goal.
A small amount of money to pay for school uniforms, school supplies, and school fees often makes all the difference between a child staying in school or dropping out. Education is crucial to these disadvantaged children, without education these children would remain illiterate; they will not have a chance to fight the causes and effects of poverty in their lives and will continue their life of poverty without any hope of change.
My vision is to help create schools where a poor family doesn't have to provide their own educational materials (their earnings are barely enough to buy food), and over the next fifteen years alter the culture so that education and a better life is a certainty for those who are willing to work for it. Give these children a future, a sense of pride and dignity. So they don't have it so hard.
I am very grateful for everyone who has supported this project, your help has made a huge impact in the lives of these children. Without your help, none of it would have been possible. Thank you.