In November 2010, I went on a two-week backpacking trip to the Philippines with my sister and friend. From Manila, with our 40-pound backpacks, our destination was 9.5 miles away: Bacoor Cavite. A typical 10-minute drive in the States was a three-hour adventure. We first took a tricycle to the train station, then rode the train to a jeepney stop.
Jeepneys. I've never seen anything like it – picture a carnival on wheels. Bright colors, wild graffiti and decorative adornments embellished a school-bus-shaped vehicle. We missed our stop, going too far south and had to tread down a dirt road to get to another jeepney stop headed back the way we came. We then took another tricycle to Bacoor Elementary School. We made it!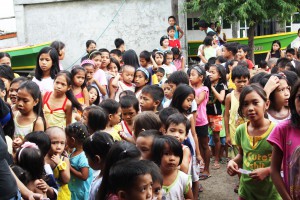 On our journey, many asked us why we, tourists, were going to visit this town. What is there to do or see in this poor area? Well, today we were going to volunteer with Children's Hope Fund (CHF), a Denver-based nonprofit organization that provides educational opportunities and resources to impoverished children.
We were greeted by Rosalie Concepcion, a school teacher and volunteer for CHF. She warmly welcomed us into her home where over a dozen volunteers were cooking. This day was an exciting day for 300 children. They were going to receive a hot meal – for free!
http://www.youtube.com/watch?v=xA-Y65ywCIk
The Children's Hope Fund was hosting its monthly meal program that provided one piece of fried chicken, white rice and a juice box to each child. When we arrived at the site in the poor village of Tramo, the children were waiting patiently and orderly in the hot sun. They were lined in rows, each holding "the golden ticket." Tickets for the free meal were distributed to children in school, as a way of encouraging them to attend.
The volunteers gave us a tour of the area. Many of the homes did not have doors – we could look right into them. They appeared to be formed by upright pieces of wood with a board slapped on top to function as the roof.
Some of the children did not have shoes, running around on the path of dirt and rocks. They were playing with bottle caps. Everyone greeted us with a smile. Many were missing teeth.
When the food arrived, my sister and friend assisted in passing out the meal boxes to the children. I wandered the area taking photos and making conversation with the parents – nearly all were women. Most said they were single mothers, working as the breadwinners for their family. They expressed their gratitude for Children's Hope Fund. This meal was important to them. Some children had waited in line for more than two hours. Many mothers asked if there would be leftover lunchboxes available for them. I watched the joy on the children's faces as they enjoyed such a simple meal.
It was an eye-opening experience. With the kind hearts of its volunteers, the Children's Hope Fund was making a substantial impact on the lives of these children. Rosalie shared a major problem is that after concepts are taught in school, they are not reinforced at home because most parents are not educated enough to help. Many parents shared the same sentiments, but with guilt that they could not provide more for their children.
As my eyes began to well up, I realized that not only do I need to better appreciate what I have, but that there are many ways to help others even on the other side of the world.
With this experience kept firmly in my mind and closely in my heart, we left Bacoor Cavite to Batangas.
————————————————————————-
Annie Guo is the President of Asian Avenue magazine, a monthly publication based in Denver, Colorado. This is an excerpt from the magazine.